Stephen Bauman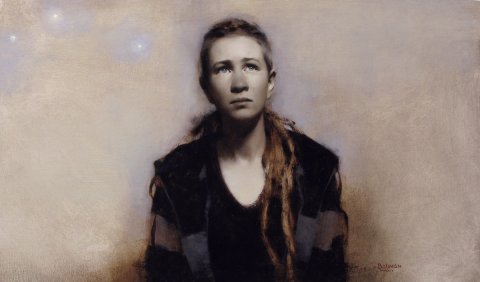 Born in Memphis, Tennessee in 1980 Bauman's family soon after that relocated to Miami, Florida, where he followed his older brother into the world of graffitti. His early exposure to this art, the constant presence of paints and sketchbooks in his childhood home, and frequent trips to local walls and warehouses, provided the younger Bauman with a strong foundation of the basics of design and drawing.
But it was the years he spent from 2003 to 2009 studying and later teaching at The Florence Academy of Art that enabled him to make a tremendous leap as an artist. His instructors taught him to look at the human figure, and to see beauty in its proportions, to not, for example, draw the eyes and nose as distinct elements of the face, but to study the structures and anatomy of the head, to draw the "atmosphere" around the model. They taught him to see all over again. Following his studies at the academy, he began to teach there. He began passing on the principles he learned from his instructors, the classical traditions of the craft of painting, to the next generation of painters coming to Florence in search of an artist's training.
Since graduating, Bauman continues to grow as an artist – closely examining the works of artists he most admired: Dagnan Bouveret, Jules Bastien-Lepage, and Andrew Wyeth, among others. He is currently a Principal Instructor in Mölndal, and is represented by The Grenning Gallery and Hersh Fine Art in Long Island, NY, and Jack Meier Gallery in Houston.
Daydreamer
Oil on panel
30 x 50 cm
(12 x 20 in.)
2012